Korry 307 Series 3/8 x 5/8-Inch Switch and Indicator
---
The Korry 307 is an industry benchmark for reliability, with a rugged design and few piece parts.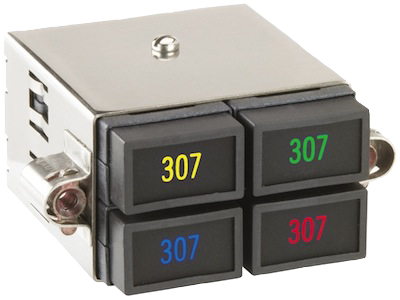 It delivers bright, uniform illumination and low touch temperature normally found only in larger, costlier switches, thanks to a high-efficiency reflector specifically engineered for its two light sources.
Long-life single-pole switching, for more than 1 million actuations
Mounting versatility with two cap-height options, optional brackets, and simple matrixing
Quick front relamping in hinged cap
Uniform, sunlight-readable lighting with low surface temperature
Choice of flange-based LEDs or T-1 incandescent bulbs in 5 and 28 Volts
Optional NVIS lighting
Optional 50/50 and 80/20 split legends
Optional internal seal
Selected Specifications
Mechanical
All dimensions in inches (mm)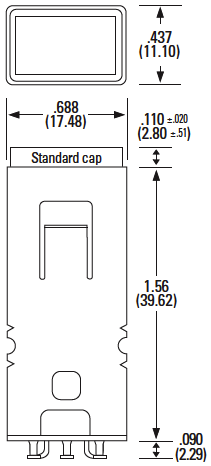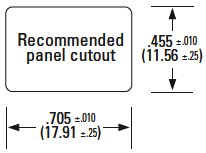 Weight: 0.48 oz. (13.6 g) typical; varies with options selected.
Operating Characteristics
Switch type: Momentary, single-pole Form C microswitch, gold or silver contacts
Switch travel:
Switch transfer: 0.025 inch minimum (0.64 mm)
Over travel: 0.015 inch minimum (0.38 mm)
Actuation force: 1-2 pounds (0.45-0.91 kg)
Cap extraction: 2-6 pounds (0.91-2.72 kg)
Actuation life: 1,000,000+ mechanical actuations at room temperature
Electrical
Switch circuit (Momentary single pole double throw)

Lamp circuit options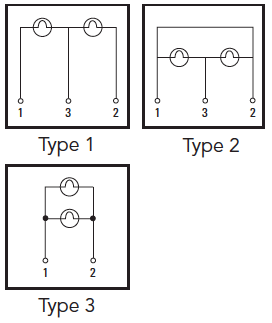 Lamps: two T-1 incandescent bulbs or flange-based LEDs are available in 5 and 28 Volts.

Terminal options:
Single-turret solder (switch) with eyelet solder (lamp circuit types 1 and 2)
PCB (switch and lamp circuit types 1 and 2)
Screw (indicator only; lamp circuit type 3 only)


Disclaimer:
This summary only contains basic marketing information on function or purpose. It does not contain technical data as defined in 15 CFR 772 or 22 CFR 120.10. This information is not subject to US export controls under the EAR or the ITAR.
Korry 307 PMA Switch
Korry 307 Chromalux ® Switch Lights
For information or assistance:
Call our Korry Tech Center at 425-297-9628, 6:30 am - 2:30 pm Pacific time