Korry 318 Series ½ x 1-inch Indicator
---
The Korry 318 is used on all Boeing 727 and 737 jetliners as well as other commercial and military platforms. The current LED version offers dramatic maintenance-cost savings in any application, as well as the highest possible lighting reliability for critical systems, such as enhanced ground proximity warning systems (EGPWS), predictive windshear systems, and cargo fire/smoke programs.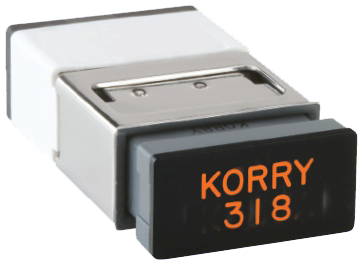 Operators of aircraft with legacy incandescent Korry 318 units can retrofit to LED lighting by simply exchanging caps, which contain all required power conditioning and dimming circuitry. No aircraft modifications are required. Complete legacy units are also available as an option.
Life-of-the-aircraft dimmable LED lighting
Uniform, sunlight-readable legends
Low surface temperature
Easy installation
Shock- and vibration-proof performance with latched cap and secure contacts
Optional switch for illumination-test or press-to-reset function
Choice of ground- or positive-seeking circuit
Optional splashproof version with external boot (designated the Korry 317) for center-console applications.
Optional legacy configuration with incandescent lamps
Units are energized two ways:
By closing a control or master-test switch in the external circuit.
By closing the internal press-to-test switch (optional).
Two basic internal circuits are available
Ground seeking: illumination control through switch in ground leg of external circuit.
Positive seeking: illumination control through switch in positive leg of external circuit.
LED lighting schematics
Disclaimer:
This summary only contains basic marketing information on function or purpose. It does not contain technical data as defined in 15 CFR 772 or 22 CFR 120.10. This information is not subject to US export controls under the EAR or the ITAR.
Korry Chromalux ® 318 LED Indicators
For information or assistance:
Call our Korry Tech Center at 425-297-9628, 6:30 am - 2:30 pm Pacific time