Korry 476 Series 3/8 x 1-Inch Indicator
---
The Korry 476 indicator provides exceptional lighting and has proved reliable over millions of service hours on commercial and military aircraft.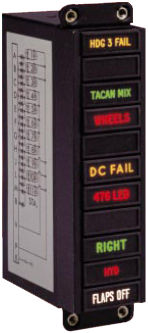 Master-caution array of Korry 476 indicators.

With computer-optimized reflectors and our proprietary legend technology, the legend illuminates evenly and is always easy to read, even in direct sunlight.
Exceptional sunlight readability and lighting uniformity
Front-accessible, push-to-relamp captive cap assembly
Short depth behind panel
Incandescent lamps standard
LED lighting optional
NVIS lighting optional
Custom matrix assemblies
Lamp circuit options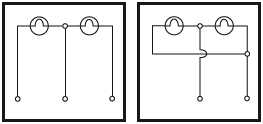 Lamps: T-1-3/4 incandescent or flange-based LEDs available in 6V, 14V, 28V-LL, and 28V-NL
Terminals: double solder turret (T-2) standard.
Disclaimer:
This summary only contains basic marketing information on function or purpose. It does not contain technical data as defined in 15 CFR 772 or 22 CFR 120.10. This information is not subject to US export controls under the EAR or the ITAR.
For information or assistance:
Call our Korry Tech Center at 425-297-9628, 6:30 am - 2:30 pm Pacific time