Optical Products
Korry is the Industry leader in NVIS lighting technologies for Aerospace and Defense markets. Our product offering solutions are Mil Standard compliant and Field Proven on Air, Land & Sea.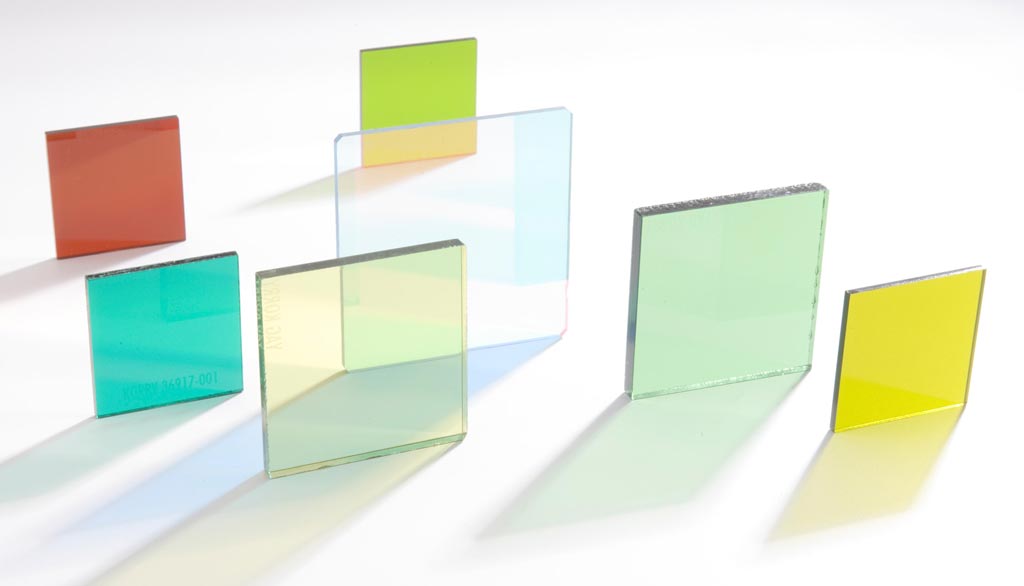 Plastic NVIS Filters
Drawing on more than 30 years of experience in NVIS-compliant light filtering, we have engineered Korry Nightshield plastic NVIS filters for reliable, cost-effective new installations and retrofits in commercial aviation, medical evacuation, search and rescue, law enforcement, and defense
Nightshield filters are a simple way of keeping users of night-vision devices (NVDs) safe. Our filters can be applied to any light source to regulate its infrared emissions, preventing interference with a pilot's or ground-equipment operator's goggles.
NVDs create a picture of the nighttime environment by amplifying ambient infrared energy, so unfiltered light sources in proximity can cause blooming and flaring, potentially disorienting NVD users. Nightshield filters solve this problem. They also help conceal the users' location by making their lighted equipment more difficult to observe through NVDs at a distance.
Additional advantages include:
Engineered for temperature extremes from -55 to +85 degrees C, where many other plastics fail.
Available in a variety of colors, thicknesses, sizes, and other options, to filter anything that emits light: lamps, indicator lights, legends, screens of every type, including touch screens.
Ideal for fixed-mount, hand-held, or carry-on equipment, everything from cockpits and dashboards to laptops, smart pads, smart phones, even defibrillators.
Available in flexible sheets that can be cut with scissors for quick retrofit of air or land applications.
Suitable for the toughest environments and qualified to many Mil-STD specs.
Available in standard dual-use configurations (EAR-99), with no export license required.
Korry Nightshield
Nominal spectral properties
Nominal spectral properties
Color temperature: 1600 K
Transmission: 12%
Color (u', v'): 0.101, 0.561
NRa @ 0.1 fL: 1e-11
NVIS compliant per MIL-STD-3009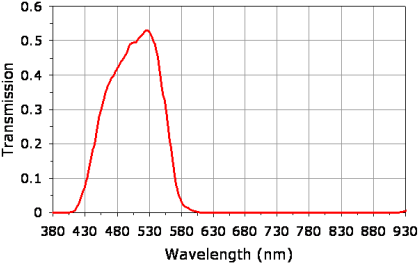 Nominal spectral properties
Light source: white LED (x=0.36, 7=0.37)
Transmission: 22%
Color (u', v'): 0.107, 0.544
Color (u', v'): 0.101, 0.561
NRa @ 0.1 fL: 5e-11
NVIS compliant per MIL-STD-3009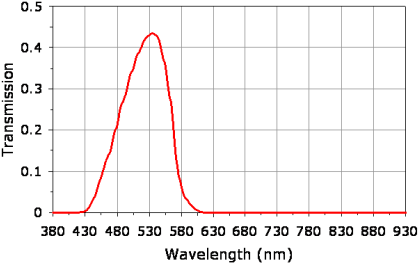 Nominal spectral properties
Light source: green LED (dominant WL 532 nm)
Transmission: 22%
Color (u', v'): 0.081, 0.566
NRa @ 0.1 fL: 9e-11
NVIS compliant per MIL-STD-3009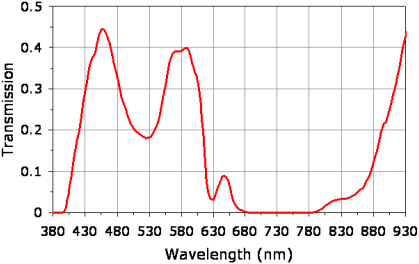 Nominal spectral properties
Color temperature: 1600 K
Transmission: 11%
Color (u', v'): 0.125, 0.572
NRa @ 0.1 fL: 8e-11
NVIS compliant per MIL-STD-3009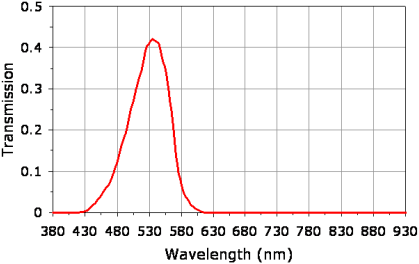 Nominal spectral properties
Light source: white LED (x=0.36, y=0.37)
Transmission: 18%
Color (u', v'): 0.127, 0.577
NRa @ 0.1 fL: 8e-11
NVIS compliant per MIL-STD-3009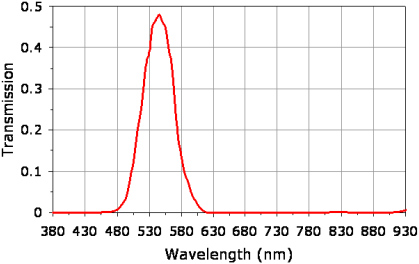 Nominal spectral properties
Light source: green LED (dominant WL 556 nm)
Transmission: 50%
Color (u', v'): 0.128, 0.579
NRa @ 0.1 fL: 6e-11
NVIS compliant per MIL-STD-3009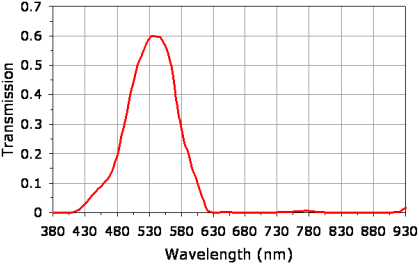 Nominal spectral properties
Light source: white LED (x=0.28, y=0.29)
Transmission: 25%
Color (u', v'): 0.110, 0.576
NRa @ 0.1 fL: 6e-11
NVIS compliant per MIL-STD-3009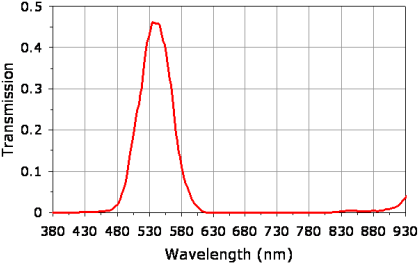 Nominal spectral properties
Light source: white LED (x=0.36, y=0.37)
Transmission: 12%
Color (u', v'): 0.230, 0.565
NRa @ 15 fL: 9e-8
NVIS compliant per MIL-STD-3009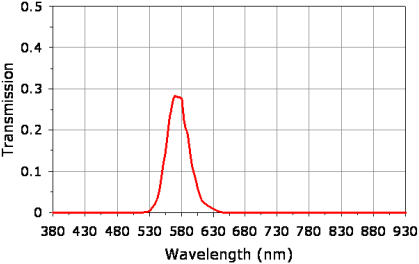 Nominal spectral properties
Color temperature: 1600 K
Transmission: 18%
Color (u', v'): 0.262, 0.560
NRb @ 15 fL: 2e-8
NVIS compliant per MIL-STD-3009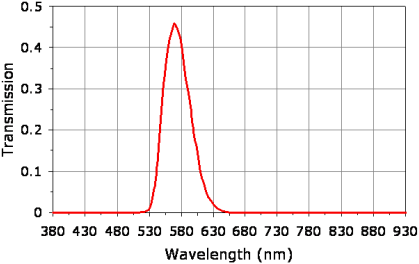 Nominal spectral properties
Light source: yellow LED (dominant WL 588 nm)
NVIS compliant per MIL-STD-3009
Transmission: 52%
Color (u', v'): 0.311, 0.553
NRb @ 15 fL: 1.2e-8
NVIS compliant per MIL-STD-3009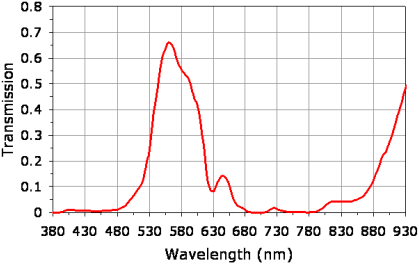 Nominal spectral properties
Light source: amber LED (dominant WL 611 nm)
Transmission: 66%
Color (u', v'): 0.451, 0.532
NRb @ 15 fL: 6e-8
NVIS compliant per MIL-STD-3009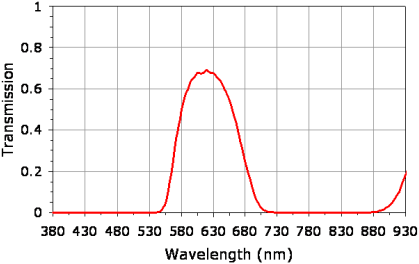 Nominal spectral properties
Color temperature: 1600 K
Transmission: 14%
Color (u', v'): 0.425, 0.536
Green/red ratio >11
NVIS compliant per MIL-STD-3009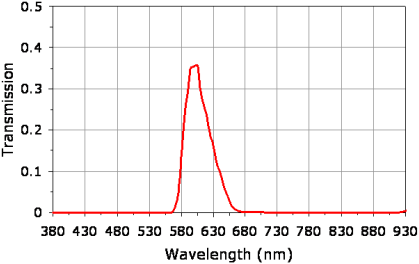 Nominal spectral properties
Light source: CCFL AMLCD
Transmission: 32%
Color (u', v'): 0.206, 0.500
NRb @ 0.5 fL: 1.5e-9
NVIS compliant per MIL-STD-3009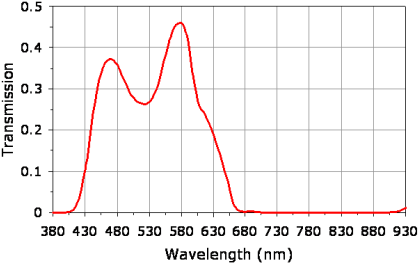 Nominal spectral properties
Light source: white LED (x=0.36, y=0.37)
Transmission: 29%
Color (u', v'): 0.162, 0.508
NRa @ 0.1 fL: 7e-11
NVIS compliant per MIL-STD-3009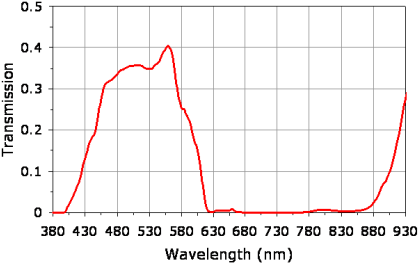 Nominal spectral properties
Light source: white LED (x=0.32, y=0.32)
Transmission: 20%
Color (u', v'): 0.166, 0.473
NRb @ 0.5 fL: 8e-10
NVIS compliant per MIL-STD-3009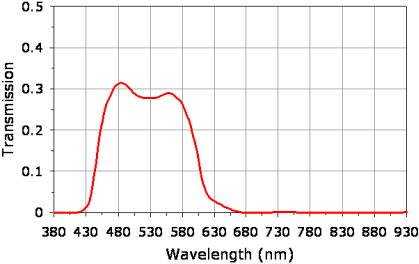 Nominal spectral properties
Color temperature: 2000 K
Transmission: 52%
Color (u', v'): 0.260, 0.551
NRa @ 0.1 fL: 3e-11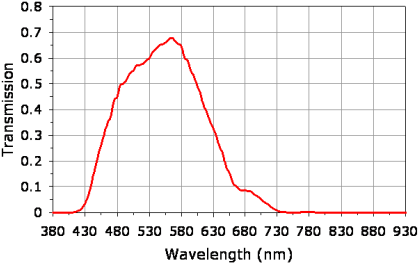 For information or assistance:
Call our Korry Tech Center at 425-297-9628, 6:30 am - 2:30 pm Pacific time